XMM-Newton Users Handbook
---


3

.

5

.

10

.

1

Choice of Science User Defined non-default windows

For OM observations more than one science window may be defined. The different science windows may overlap (as long as they overlap fully) without loss of information in any of these windows. Specifically, a FAST mode WINDOW inside an IMAGE mode WINDOW does not punch a hole into the image, thus, the source will be in the image and in the fast window.

There are several boundary conditions that limit the user's choice and which must be taken into account properly if a non-default window configuration is going to be used.

Figure 114: When the boundaries of OM science windows are defined in detector pixel coordinates, the relative location of the windows with respect to each other does not change. However, different areas on the sky are imaged under different position angles.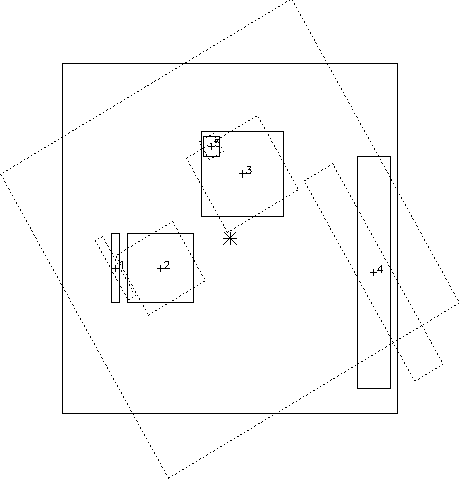 Figure 115:
Defining the locations of OM science windows in sky coordinates one makes sure that (approximately) the same area of the sky is imaged under different position angles. However, the OM science windows can change their relative locations. Windows 3 and 5 (which used to be in the upper left corner of window 3, see previous figure) are now partially overlapping, which is not allowed and window 4 is now partly outside the OM FOV (which is also not allowed).

Maximum number of windows

Up to five science windows in total (of which up to two in the FAST mode) are allowed.

Allowed science window locations and sizes

The size of an OM science window must be integer multiples of 16 in-memory (0".5) centroiding pixels, i.e., 22 CCD pixels.

Science windows must start at an even pixel number in both the horizontal (x-) and the vertical (y-) direction [e.g.: (16,16), (32,32)], and end at (n16,n16), where n is an integer number. Starting at pixel coordinate (0,0) is not possible because of the necessity to allocate a 16 pixel wide margin to accommodate spacecraft drift.

The maximum size for a single window in the Sci.User Defined Image Mode is:

full resolution: 652652 pixels ( 5'.175'.17 )
22 binning: 488480 binned pixels ( 7'.67'.5)

or any rectangular size with a total equivalent number of pixels. If more than one image window is defined, the sum of the number of pixels (binned or not) of all windows should not exceed 432698.

The maximum size of a Fast Mode window is 512 pixels in full resolution, equivalent to 2223 pixels (about 10".510".5).

Science window overlaps

Different scenarios for OM science window configurations are displayed in Figs. 114 and 115. OM science windows must overlap either entirely or not at all. This must be true for all satellite position angles allowed by the specifications made during proposal submission.

User defined OM windows should be specified in sky coordinates and angular size. All limitations in size and position are taken into account by the mission planning system after the detailed observation definition, performed in the second phase of proposal submission.

Fast Mode slice duration constraints

The minimum Fast mode time slice duration for a Fast mode window is 0.5 s while the maximum duration is the tracking frame duration (20 s).
For a more detailed explanation the reader may refer to the technical note on Constraints on the OM Window Configuration and Definition of the OM Default Configurations (§ 7).

An interactive tool for planning OM observations of point sources is available at the MSSL URL: http://www.mssl.ucl.ac.uk/www_astro/xmm/om/om_tool_current.html

European Space Agency - XMM-Newton Science Operations Centre